I don't know about you but I could sure use a little bit of distraction right now. To watch something else other than the news, to get into a new series instead of rewatching the entire run of
That's where MEME comes in! This black comedy about social status and fame through the eyes of a teen entering her last term of high school might just be what we need. All Lana (played by newcomer Marshayla Christie) wants is to be 'seen' the way local influencer Sandi (played by Sophia Malthus who was paralysed from the shoulders down three years ago in a horse riding accident) is, adored by her classmates and thousands more online. But when Sandi inadvertently humiliates Lana in front of the whole school, Lana's mission becomes clear, she wants to be number one. How far will she go to get there? #blessedlife…best life? MEME is about deciding what kind of life you want to live, and facing the consequences of those decisions.
I think now more than ever we need to be supporting local. From businesses to people and the media we consume. MEME is proudly NZ made and we're excited to share with you this interview with lead stars Marshayla Christie and Sophia Malthus.
Sophia
What do you love about playing Sandi?
Sandi is the inner self absorbed, teenage, almost-mean-girl that we all wish we could experience being for a day or two. I definitely think I deal with paralysis better than she does- I think Sandi's thirst for power and drama stems from the insecurities of being a young girl who has suddenly found herself disabled in an able-favouring world. Combined with the opportunistic platforms of social media, she truly takes advantage of being able to curate how her peers perceive her, which is probably quite a new thing for people living with a disability.
Favourite episode so far?
My favourite episode was definitely the final one; I loved the drama and the part that Sandi plays in making it all snowball into a reputation endangering social media stunt. I also loved watching Shay's character, Lana, go through the most awkward family situation I could imagine. If you could pick a dream role to play, what would it be?
I'm loyal to Sandi, but maybe it'll have to be a movie next time. Definitely more than five episodes anyway!
Tips for people wanting to pursue acting?
I'm definitely not the person to ask- JJ Fong, the lead producer of MEME, contacted me out of the blue to audition for Sandi's character and I was completely out of my comfort zone. I've never done anything like this, I haven't even done drama at school! But it's turned out to be the most amazing experience, I'm so glad I went through with the audition and trusted their vision. I'm also super proud of the girls for casting an actor with a genuine disability, they took a huge risk on me but I love where their values lie.
Where can we keep up with your work/socials?
My Instagram is @sophia_malthus, roll into my DM's!
What's next for you?
I'm going to wait and see how my acting is received before I commit to anything else acting wise… but we've just finished filming an adventure tourism documentary in the South Island which you'll have to keep an eye out for! I'm not sure where it's going to be shown, but I'll definitely be putting the information up on my Instagram when I find out.
Marshayla
What do you love about playing Lana?
I love how determined she is, she will do almost anything to get what she wants. It was like riding a roller coaster when playing Lana. I definitely had moments where I'd stop and be like 'I remember being like this when I was seventeen.'
Favourite episode so far?
A mix between episode one and two. There's some real crack up moments in both of them.
What got you into acting?
I'd always wanted to do something involved in the arts growing up. I joined my community theatre and took drama classes in high school. And after taking a gap year out of high school I auditioned for Toi Whakaari the NZ drama and studied acting for three years.
If you could pick a dream role to play, what would it be? (Could be an already existing film/show that you would have loved to be part of).
Yennifer from the Witcher! I'm obsessed.
What was it like filming the Mukbang episode?
Funny, embarrassing, gross. I still haven't eaten Cheerios or mayo since. I remember everyone being grossed out on set it was pretty funny.
Tips for people wanting to pursue acting?
Get involved in whatever you can! Community theatre, drama classes, workshops. Ask if there's anything you can do to help on set behind the scenes as well. Meet some people involved in the acting community these ways and don't be afraid to pick their brains!
Where can we keep up with your work/socials? I
nstagram! @shayyychristie
What's next for you?
It's been hectic these past few weeks with Pilot season auditions. It's tough not knowing when your going to land your next acting job. For now I'm working on my writing, I have so many stories I want to tell and I'd love to give poetry a go as well.
MEME is streaming now on TVNZ On Demand.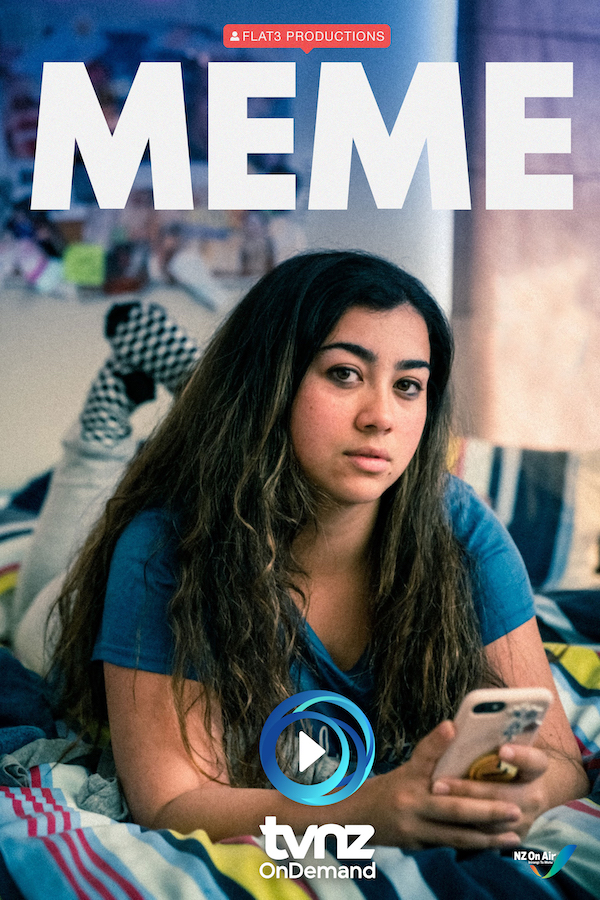 Comments
comments