I really loved talking to Kim Knight from The New Zealand Herald about what I have been up to and what is in store for me over the coming months.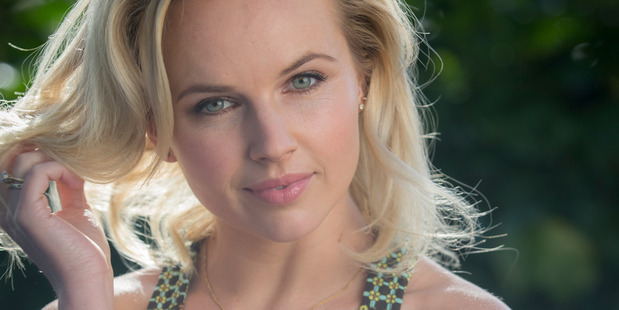 Four minutes and 56 seconds into the YouTube clip, Kimberley Crossman puts her past behind her.
The actor who made her girl-next-door Shortland Street debut aged 16, holds the microphone close and eyeballs her audience: "Cat rape."
She smiles her butter-wouldn't-melt smile and tosses her pretty blonde extensions. "It's uncomfortable, but we're gonna do it … " And she does. For the next five minutes, Crossman simulates animal sex. Cats. Flies. Bed bugs. It's the tail-end of a live stand-up comic routine filmed last year in Los Angeles. She takes the stage in ripped black jeans and sneakers and begins with a joke about the way New Zealanders put an "i" in the word "deck". As in, "I love sitting on the deck and watching the sun go down." As in, "I slipped off the deck today 'cos it was so wet."
You're not on Shortland Street now, Kimberley Crossman.
It's exactly a decade since she signed to play Sophie McKay, the teenage character written out when Crossman left to make it in Los Angeles.
The dream then: "To be the lead actress in a successful American single camera comedy."
The dream now: "We want to be like Lena Dunham. To not only be the lead in the show, but to have created the shows, and be the executive producers."
The "we" in that sentence is flatmate and business partner Katie Wilbert, the best friend she met on the set of Power Rangers, and the other half of Crossman's production company, Happy Wife Inc.
"We consider ourselves heterosexual life partners! Purely because we can't both really lock it in with anyone, and we also have everything we need in each other. We're more than best friends, we're family."
"That basically means we're meeting production companies to partner with, show runners, attaching actors," says Crossman.
"We've been working our butts off for the past few years and it's exciting to be at that point where we're going into rooms and people are excited to meet us. It feels like, not even real. Everything is aligning and kicking into gear and hopefully that will be our trajectory."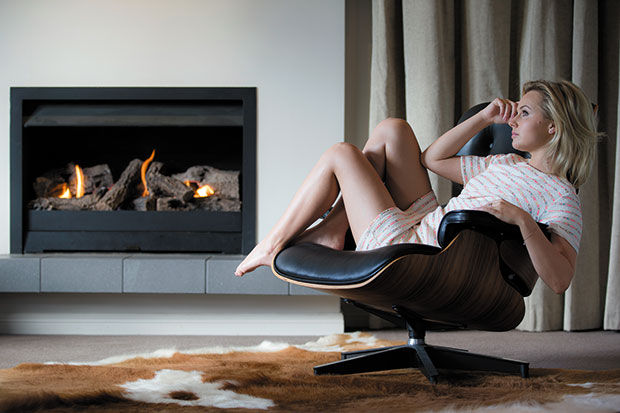 Crossman is sitting, cross-legged, on a leather couch in her sister's East Auckland living room. By lunchtime, the lights-camera-celebrity cast of this moment in her life will have included a reporter, photographer, publicist, makeup artist, Crossman's mum, Crossman's mum's friend and two dogs called Ralph and Rosie.
It began at 8am. But if you'd arrived 10 minutes early, this is what you would have seen: just a sliver of Crossman through the glass panel by the front door. Her back is turned, her head is shaking madly. She is a tiny human pogo stick in fuchsia pink Ugg boots, leggings and a jersey that is more holes than whole. She is Aunty Kim who had toast and peanut butter for breakfast and is trying to make her niece and two nephews laugh for a family photo.
Crossman is home to film the second season of TV3's sketch comedy Funny Girls. She's also promoting roles in TVNZ OnDemand shows Hashtaggers and the upcoming Terry Teo. Her first "shot on location" international feature film is in post-production (she's the female lead in 60 Yard Line, a romantic comedy about Wisconsin's Green Bay Packers football team).
At 6am on the day of this interview, she skyped her LA-based acting coach for an hour because that evening she was scheduled to tape three auditions – one local, and two international, including a guest part on NCIS: New Orleans (she's already appeared on the Los Angeles version of the show).
Back home, when she's not filming, she takes daily comedy classes at Groundlings and The Second City Training Centre. Every week, she and Wilbert work on new scripts and new ideas for scripts. Coming up next: a return flight to Los Angeles. Crossman will land at midday, get changed in the car, take a meeting with Universal and then get on a 9pm flight to Japan with Wilbert for two weeks filming comedic content for travel company Contiki. "We have a travel show in development, we want to get some footage".
The pair have just written 50 short spots for the World Surf League. Google her YouTube work for another Happy Wife production – an R-rated reimagining of the art department meeting for kid's cartoon Peppa Pig featuring Crossman as a kind of Murray from Flight of the Conchords, with liberal use of the f-word and phallic pink pigs.
Crossman is working, working, working it.
She says there's a thirst for female-driven comedy and new digital platforms offer more opportunities. You can, she says, sit around waiting to be cast – or you can take charge and develop your own material.
"They say it takes 20 years to become a great actor. And I'm like cool, I'm halfway through the trenches, ticking up all those experiences you have to have, which will be great for the Ellen interviews or whatever.
"You gotta have the life experience. We'd all like to have the cushy path to success but it's not character building and it's not realistic."
Every night, she goes home to a tiny apartment in "the valley", her two flatmates and a tarantula called Harry, whom she bought for $20 at a pet store. Sometimes, dinner is rice bubbles.
But: "If you're young and creative, you'd be stupid not to be trying."
Index New Zealand is a searchable database of about 1000 local academic research journals, magazines and newspapers. Of the 850,000 records, just 22 are tagged with the keyword "positivism" – one of those is an article about Kimberley Crossman.
Post-Shortland Street, the nicest words people used for Crossman were "perky" and "bubbly". The worst were "fake" and "inauthentic". It galled, apparently, this idea that a young woman might want to be remembered for her own name, and not that of her character's. Because here's a harsh truth: When you're pretty, blonde and female, when you're a former cheerleader and deputy head girl of your private Auckland school, the public prefers humility over temerity.
"I don't know how you deal with some of those haters," says her big sister, Rochelle Shaw. "But she is an extremely secure person. She's confident in herself about what she's doing on her journey and she's proud of it."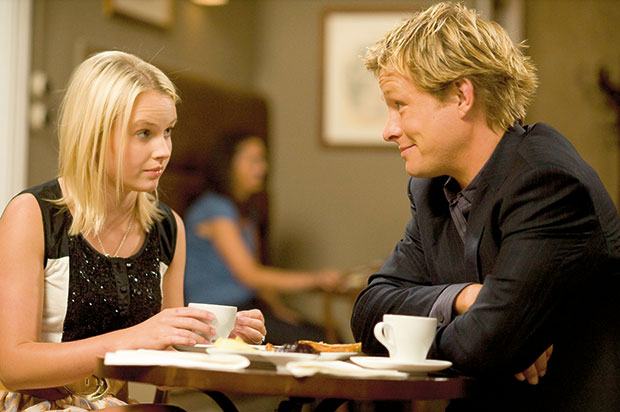 Shaw, 33, was key to the early establishment of Brand Crossman. She ran her sister's website and helped develop the business plan. This week, on kimberleycrossman.com, you can find five tips for more energy and a portal to online resources for actors. You can buy compliment cards (write your own nice words in the blank spaces) and a T-shirt that reads "I'm trying to be awesome today, but I'm exhausted from being freakin' great yesterday".
"Kimberley has an incredible work ethic," says Shaw. "She has incredible drive."
But that family support is crucial: "We feel like we're part of the journey as well, so when the journey goes off path and there's some disappointments, we're all there to help build her back up."
Halfway through this interview, Crossman's mum Jill, who lives just down the road, wondered if the noise of the vacuum cleaner would be an unwelcome distraction (yes, said Crossman). She offered coffee at regular intervals, heated a date scone for her daughter's lunch, and gave her the thumbs up as she posed for her outdoor shots.
"What's the sh**test thing that could happen to us?" Shaw says, contemplating Crossman's leap to LA. "We have to go home and live with our mum, who is amazing? Can we go home now!"
For her part, Crossman says she used to care "a lot more" about that criticism.
"Sometimes the characters I play are intentionally vacant blondes, which I think is funny. Am I a vacant blonde? No. Am I average at some things in life? Yes, of course. But I am well educated, I am well travelled, I am always willing to learn and I never pretend that I've got it all figured out.
"I think I'm a people pleaser, and I want people to like me. I don't think that's necessarily a bad thing. But also, I don't need to spend time trying to win people over who are never going to want to be won over anyway. Unfortunately, some people are going to be dicks, and that's their M.O."
The Crossman family motto: "Treat people how you'd like to be treated. Help people where you can."
Earlier this year, Crossman travelled to Jordan as a World Vision ambassador. She met some of the Syrian refugee families who would be the recipients of this year's 40 Hour Famine fundraising efforts.
"The big words that came to mind were sacrifice and safety. Even just talking about it, I get emotional. I've never had my safety compromised that much."
Several times, she says, her brain just went "No. I can't compute that … I love entertaining and I'd do it forever, but it's not solving the world's problems. … I'm not in hospitals saving people's lives, and I'm well aware of that. Being able to do what I love, and it having a positive effect, has always been the goal."
Crossman is a Christian. Some mornings, she says, she reads the Bible.
"I feel like my walk in faith has become a lot stronger since I've been away from family and stuff … "
This appears to be new territory for a Crossman interview? "No one really wants to talk about it. It's fine, whatever, I don't want to feel like I'm foisting it on anyone. It's definitely something I use for strength and guidance."
In 2013, she says, she lost her 96-year-old grandmother, Joan Woolford, who had lived with her as she grew up. "I always talk to Nana. I feel like she's with me as well. It's a really nice thing to feel like you've still got that support around you. It helps ground me before I go and encounter the craziness of Hollywood or whatever. These crazy characters I live in for a bit!"
Hollywood, via Ferndale. Some days, it feels like every Shortland Street actor ever is trying to make it in LA.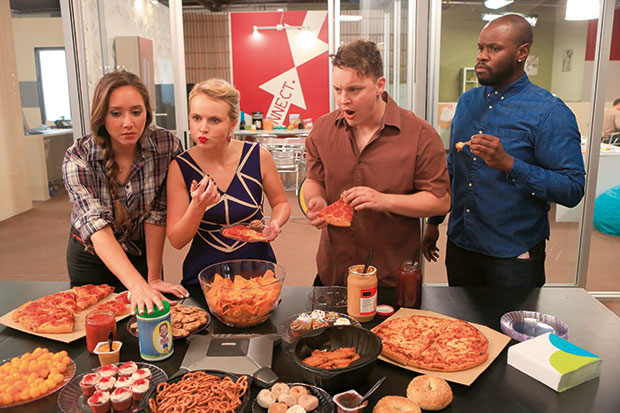 "There is a bigger community of Kiwis who are amazing and doing great things who hang out a lot socially," says Crossman. "The real thing here, is I'm not very cool and I don't really hang out socially. I'm invited, I go occasionally, but I don't feel like my day is spent 'hanging out'."
Her visa precludes a day job.
"I'm allowed to work in film and television as an actor and a writer. There's nothing like a bit of fire under your butt to make it work, which is good and bad, because you want every project that comes your way."
Back in the day, Crossman had three callbacks for a major role in The Twilight Saga: Breaking Dawn. She didn't get the part. Last year, she was booked as a series regular in the Fox television pilot Fantasy Life. It didn't go into production. One Friday, for a project she can't talk about in detail, she found out she'd been cast to play Norma Jean. By Monday, the studio had withdrawn the offer because they didn't want an actor on a work visa.
"When I first arrived in LA, I was arrogant, in the sense that I thought I'd arrive and they'd go, 'you're here, we found her'. That happens to people. My story onShortland Street was that I went to one audition and I booked it and worked for six years. So I did have an unrealistic expectation."
Are the New Zealand jobs just bread and butter? She shakes her head in disagreement and says she has turned down other local offers.
"I am very intentional about my resume. Coming back to do Funny Girls isn't going to buy me a boat and a house, but it is tying me in with the funniest women in comedy in New Zealand. It's attaching me to a project that's been abundantly successful."
The Terry Teo role, she says, was an opportunity to play a very violent character, a darker Crossman than people are used to.
"For me, it's looking at those opportunities to flip perception on its head. To surprise people, and surprise myself too."
Some actors, she says, have god-given talent.
"But in my industry, especially in one of the most competitive markets, which is females, 18-25, talent won't get you the job. There are so many other factors and you can still only control a small amount of it. My goal is always to knock it out of the park in the areas I can control."
Watch her pose for the Canvas cover shoots. Small, constant movements. Shoulder up and smile. Shoulder down and smile. "That was very Marilyn," she says, pleased because she's still working on sexy.
"I always try and reach for comedy. I'm not super comfortable being sexy. Certain people just ooze sex appeal. I'm not that person."
She changes outfits in her sister's laundry and returns braless, in a strappy green dress. She laughs about her lack of bust and says she's well-versed in the use of "chicken fillet" boosters, silicone pads and "a tonne of bronzing".
"I realise my job. It's 18 to 35-year-old males. These are the things we have to do. Ratings are a real thing."
Kimberley Crossman opens the sliding door and heads towards the pool. "Right. Let's freeze our tiny tits off."
#funnygirlsnz #hollywood #kickedtothecurb #happywifeinc
Comments
comments