"Maybe it's time to take a break, you know? I mean, I know that's a radical idea. A break from all of it. A break from dating. A break from running and chasing and reaching out for some outside thing and just take time alone."
"That's terrifying."
This dialogue between Kyra Sedgwick's character Ingrid and Shailene Woodley's Daphne was exchanged within the first few minutes of Endings, Beginnings and I feel as though if they had followed this in the first place, we wouldn't have a movie and we wouldn't be having this conversation right now. I also feel as though that dialogue was quite telling in many ways. For Daphne to say 'that's terrifying' before we are even introduced to her character completely says a lot about her.
But that's just Endings, Beginnings style, I guess. The story follows Daphne (played by Shailene Woodley) a 30-something LA woman who navigates a pretty turbulent personal life and unlocks the secret to her life after meeting Jack (Jamie Dornan) and Frank (Sebastian Stan) at a party.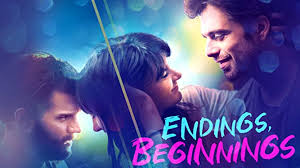 It's clear from watching the trailer that this film is after my own heart. It panders to a hopeless romantic millennial like myself, also navigating life and discovering who she is. I knew there was a love story involved and I knew that it was probably going to be more of a drama than a rom com. Even though I knew this film panders to people like myself, I was still left feeling somewhat dissatisfied once the credit rolled around.
It's one of those films where you feel like something was missing but you can't quite put a finger on exactly what. Perhaps it was the lack of chemistry between the three actors. Surprising as each of them delivers great performances in this but together it was a bit lackluster. Sure, some scenes were pretty steamy and there were moments when you just can't help but smile. I did love the clichéd meet cute of meeting at a New Year's Eve party. That first scene between Daphne and Frank was filled with witty banter between them while Daphne literally dazzled in a gold dress. I also thought they captured that feeling of exchanging flirty texts with someone for the first time (set to background music from Daphne's very own 'Music to suffer to' playlist no less) but overall the casting just didn't quite work.
I had high hopes for this film because I loved director Drake Doremus' earlier films. This film had the same vibe and treatment as Like Crazy but it lacked the same charm and depth as that. It didn't help that Daphne's character was just not likeable and I don't feel had enough redeeming qualities for viewers to truly connect and root for her.
Endings, Beginnings is a sultry, hazy, oftentimes vaguely dreamy exploration of self-discovery. I just wish the context of her self-discovery and the focus of the story was more than the love triangle aspect. I did enjoy the treatment of the film, the outfits, and the excellent soundtrack. It's a great film to watch with your girlfriends over the weekend after you go for brunch. It's not life changing but engaging enough to enjoy at the cinema after months of being on lockdown.
Endings, Beginnings is out July 23rd in NZ  
Comments
comments