While the first month of 2021 is almost already finished (it flew by, right?!), it is still a perfect time to reflect on the weird (understatement I know) year that 2020 was and look ahead to what the new year could hold.
It's hard to know where to begin with describing what 2020 was. Who would have thought that last year was how the 2020's decade was going to begin? I sure didn't. I don't know about you but this time last year I was in the middle of summer concerts / events that featured international artists which seems like another lifetime ago now!
The challenges from the past year have affected people in many different ways and turned the world on its head when the borders started shutting and harsh lockdowns ensued. It had many people reevaluating what and who is important in their lives as the lockdowns left us (mostly) inside with our own thoughts. I also can't not mention the heightened health issues that have come from this, not just physical health but people's mental health has been hugely impacted. The fallout it has caused continues so today I wanted to put in a few reminders of things to do to keep you on a positive track (we can't control this beast so let's just focus on our own environment as much as possible).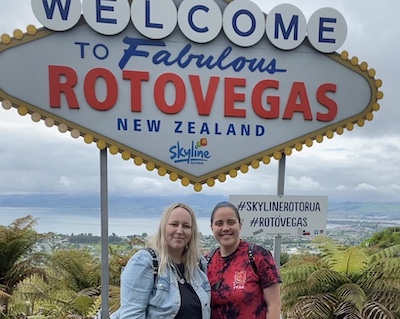 1. Making plans with your favourite people – whether this is with your family, friends or even your dog (and whether it has to be a digital catchup or in-person) – it will boost your mood having something positive to look forward to! I love getting to catch up with my bestie and grab some good food or head to the cinema, we also recently played tourist in Rotorua (image at the Luge) which was so fun.
2. Putting your mental health first – it's ok to not be ok. It's not human to be positive 100% of the time especially when we're in a what seems uncontrollable pandemic (amongst all the other things going on!) so do what you need to do, whether that's calling a loved one, doing a relaxing activity or reaching out for professional help (in NZ, 1737 is available 24/7 and you can call or text that number). It's not weak to speak.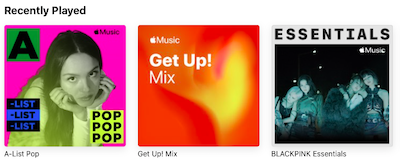 3. Do an activity that makes you feel good – this could be listening to your favourite podcast, watching a movie or TV series you love, or jamming out to your favourite artist or playlist, take time to put away everything else and have some well deserved 'me time'. I personally love listening to music from the late 1990's and 2000's to get a bit of a boost and I have some great Apple playlists to reach to – the Blackpink playlist and the 'Get Up' Mix have been my most recent listens.
4. Getting out in the fresh air (whether it's going down to your favourite park or in your backyard) will keep your mind and body active, and has the opportunity to boost your serotonin. I also know that meditation and the like isn't for everyone, but I highly recommend giving 'mindful breathing' a go, I learnt about it a while ago and was offered it to help with anxiety, you just need to be able to focus on your breathing – nothing else for however long you need.
5. Supporting local – why not head out on a road trip, complete a cool activity, head down to the shops or try a new cafe/food spot – there is no better time (especially with the news this week that the borders are likely to remain closed for most of the world for the foreseeable future) to head out and play tourist in your own town – making memories and supporting local at the same time, win win!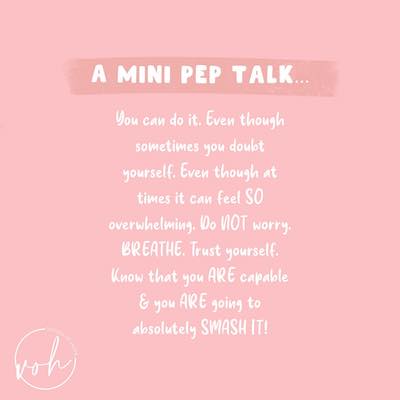 6. Having a resource that suits and helps you – whether it's a small journal, jotted words into your phone notes or having your favourite quote/affirmation on hand (on your device screensaver etc) like this one from Voices of Hope (@VoicesofHope), having this readily available for you to jot down any feelings can help to release them or quotes to remind you that you've got this, every small thing can add up. Do whatever works for you or try it out if you haven't!
Sending well wishes to everyone for a better and brighter 2021!
Comments
comments