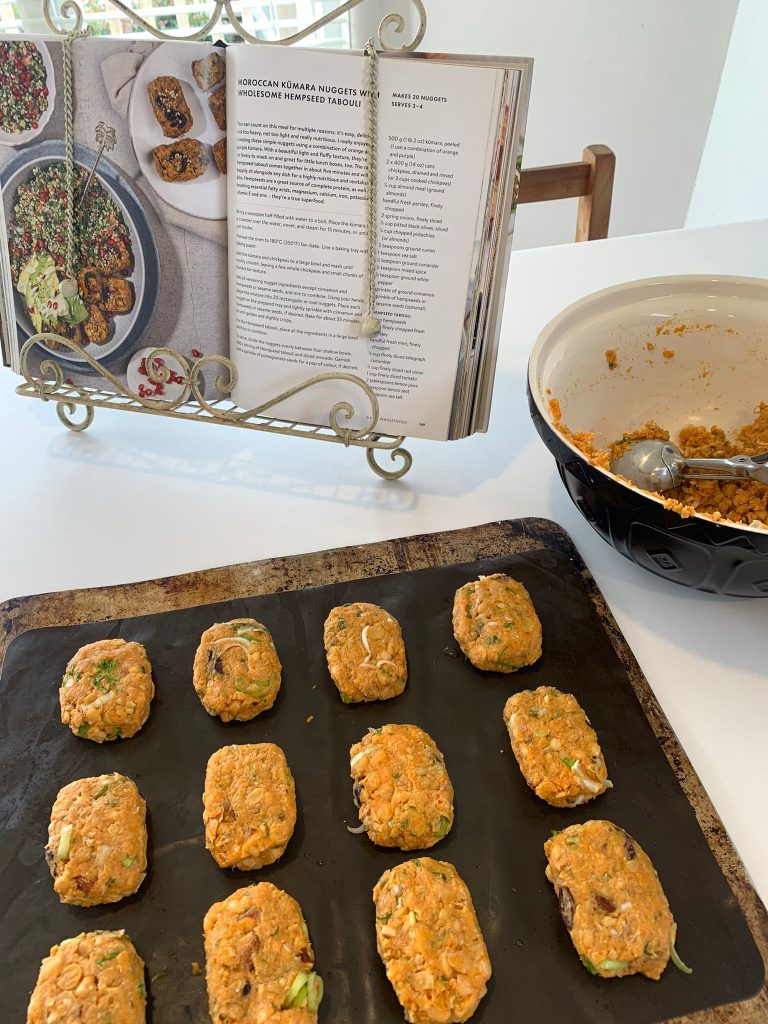 Moroccan Kūmara Nuggets with Wholesome Hempseed Tabouli
(Gluten free, vegan)
With the price of food being so high at the moment, I have been on the hunt for more recipes that are bulked out with tinned pulses such as lentils, chickpeas and blackbeans. These nuggets from Sophie Steevens' beautiful book "Simple Wholefoods" are mouthwatering. I love the sweetness of the kūmara combined with the textures of chickpeas and almonds to give it some bite. Being Lebanese myself, I wasn't sure how the tabouli would compare to our traditional version. The addition of highly nutricious hempseeds provided a lovely crunch, it was delicious!
My top tips for making the nuggets;
Make sure you wet your hands before rolling them out so that the mixture doesnt get stuck to your hands 
I used an ice cream scoop to roll out the nuggets, this means you get beautifully identical nuggets that cook evenly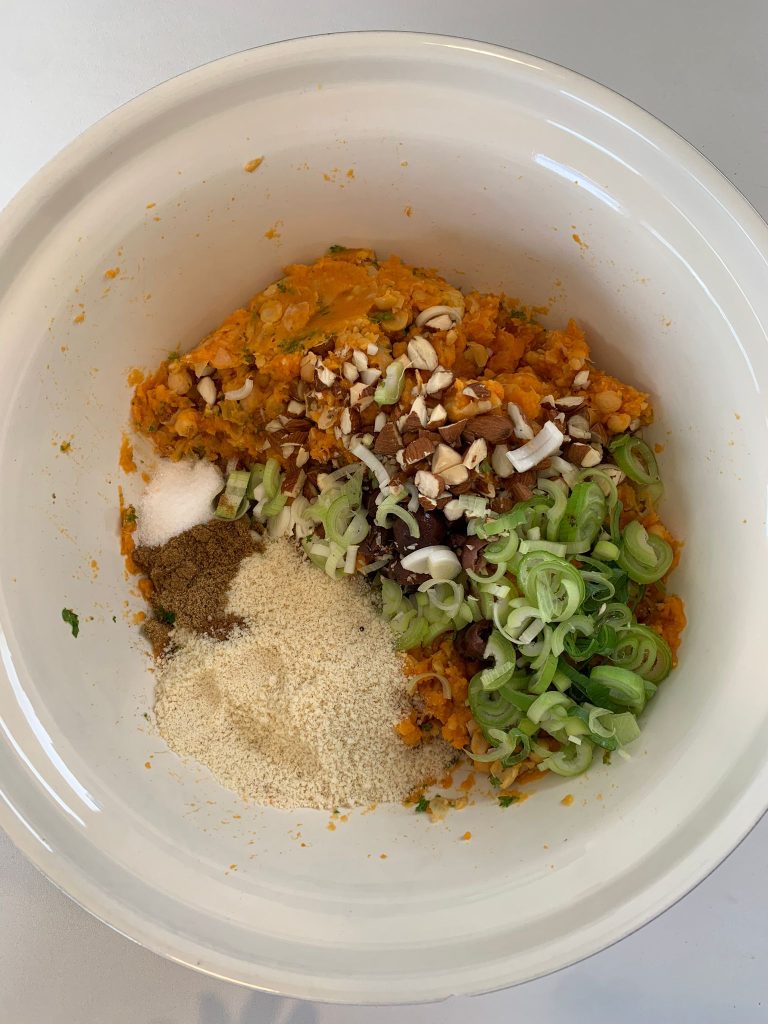 Makes 20 nuggets, serves
500g kūmara, peeled
2 x 400g cans chickpeas, drained and rinsed
½ cup almond meal
Handful fresh parsley, finely chopped
2 spring onions, finely sliced
1/3 cup pitted black olives, sliced
¼ cup chopped pistachios or almonds
2 teaspoons ground cumin
1 teaspoon salt
½ teaspoon ground coriander
½ teaspoon mixed spice
1/8 teaspoon ground white pepper
Sprinkle of ground cinnamon
Sprinkle of hempseeds
Hempseed tabouli
1 cup hempseeds
1 cup finely chopped fresh parsley
Handful fresh mint, finely chopped
½ cup finely diced telegraph cucumber
½ cup finely diced red onion
1 cup finely diced tomato
2 tablespoons lemon juice
1 teaspoon lemon zest
½ teaspoon sea salt
Bring a saucepan half-filled with water to a boil. Place the kūmara in a colander over the water, cover and steam for 15 minutes, or until just tender.
Preheat the oven to 180 fanbake. Line a baking tray with baking paper.
Add the kūmara and chickpeas to a large bowl and mash until mostly smooth, leaving a few whole chickpeas and small chunks of kūmara for texture.
Add all remaining nugget ingredients except cinnamon and hempseeds or sesame seeds, and mix to combine. Using your hands, shape the mixture into 20 rectangular or oval nuggets. Place each nugget on the prepared tray and lightly sprinkle with cinnamon and hempseeds or sesame seeds, if desired. Bake for about 35 minutes, or until golden and slightly crispy.
For the hempseed tabouli, place all the ingredients in a large bowl and toss to combine.
To serve, divide the nuggets evenly between four shallow bowls. Add a serving of the hempseed tabouli and sliced avocado. Garnish with pomegranate seeds for a pop of colour, if desired. I added some homemade pumpkin seed "mayo".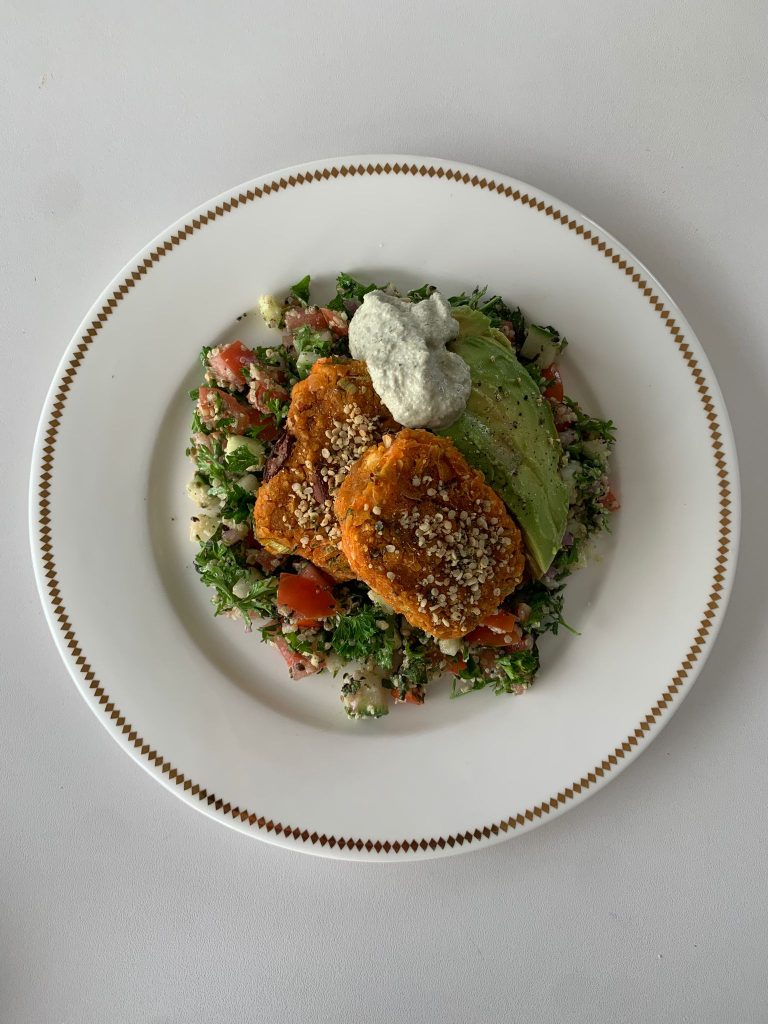 Enjoy xx
Comments
comments