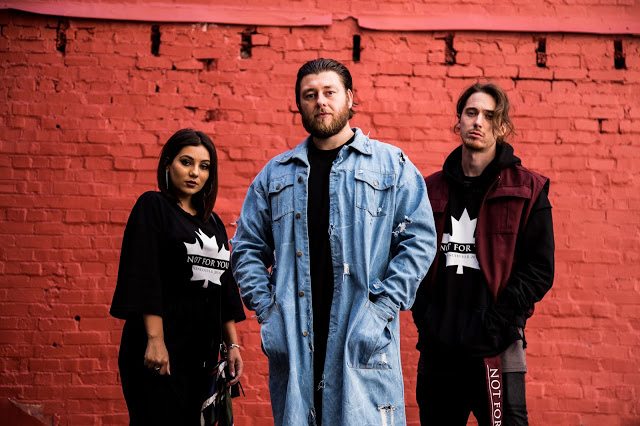 New Zealand Fashion Week may have come and gone now, but that doesn't mean our love affair for fashion has to end with it. Here are some of our favourite designers and showcases this year: 
Not For You
Not For You knows how to put on a show. The show started with designer Jerome Taylor coming out in a mask, with a microphone talking about his journey so far. It was spoken word poetry, it was partly lyrical. It was 100% a celebration – the crowd cheered, the models danced/strutted/walked with such swagger. I think it was the most fun anyone has ever had in a show before!
The pieces itself were Not For You's signature style – hand painted art in the fabric, gorgeous bodysuits, bike shorts and big jackets, styled mostly with hats in red which I just adored. 2019 marked Not For You's third year of showing at NZFW, making them the first ever label to have progressed from a graduate show, to an independent show, and now a headlining show. No easy feat but they make it look so effortlessly cool.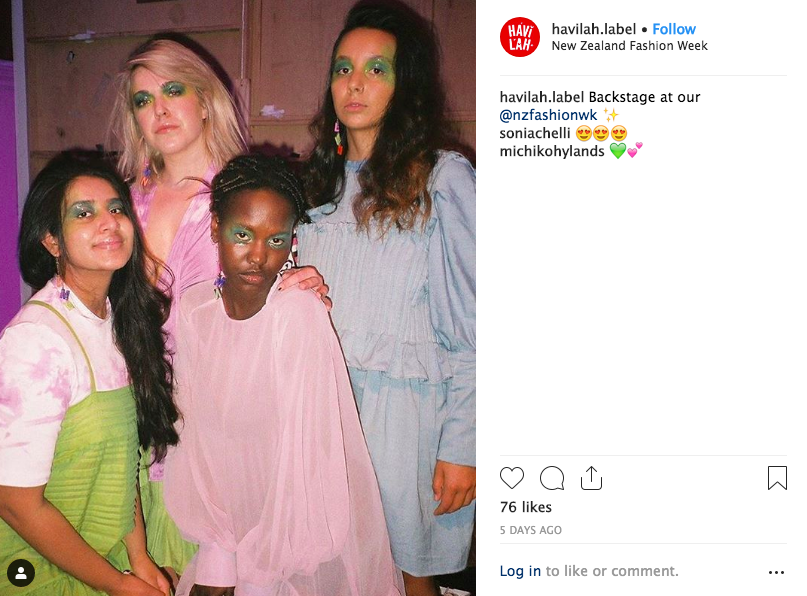 Havilah 
not wrong – Havilah's pieces really are that heavenly! Think: delicious pastel shades in pink, blue, and green paired with bold make-up in similar tones, billowy sleeves, and ruffles. The rufflier, the better!
There is no doubt that Havilah pieces are special – they are made to order in Wellington, so you know that when you buy a piece, it is made especially for you. I think that's such a sustainable approach to fashion, and makes it even more special when you finally hold one of their pieces in your hands.
Follow Havilah on Instagram @havilah.label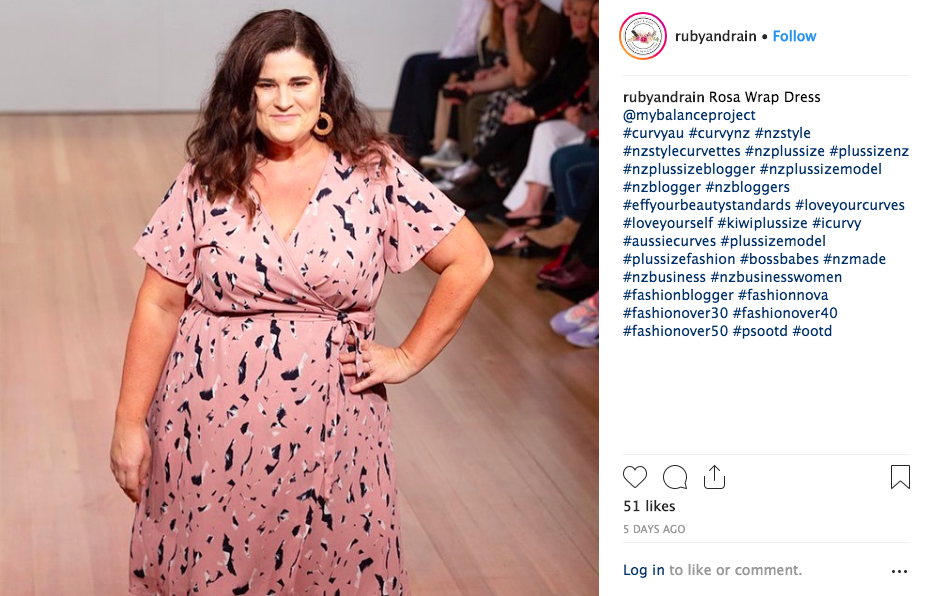 Ruby and Rain
This was a show I've been excited about for weeks! Ruby and Rain is a Wellington label designed by Meagan Te Wiata that makes womenswear in sizes 14 – 26. Their pieces are ultra feminine, extremely wearable, and is size inclusive. This is a label that knows how to dress women and how to embrace our natural curves.
I love their bright colours, simple cuts, and prints. It really is the perfect pieces to wear this season! The show itself was a statement with the models walking out in the finale holding signs that had 'rules' of what curvier women should and should not wear with a big, affirmative 'YES'. The crowd went wild when that happen! It just goes to show that there is not only space for New Zealand labels to be more inclusive, but consumers demand for it.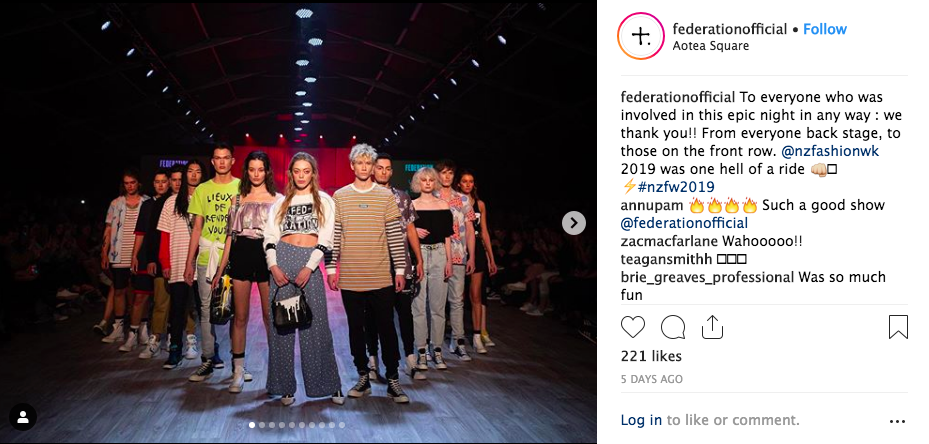 Federation 
I've always had a thing for Federation. I remember moving to New Zealand in 2009 and Federation being my first introduction to a New Zealand label. It was everywhere! It seemed like every corner in little ol' Hamilton, all the cool kids were in Federation. You knew straight away it was a piece from them – they've always had such an iconic aesthetic from their signature style of prints to how trousers fit – you can spot a Federation piece from a mile away!
Well, it's now 2019 and Federation is still going strong as ever – now with more sub brands under their family like Some Kind and Minti for kids. I love their effortlessly cool clothes – the kind of pieces you throw on no matter how you're feeling and be confident that you look amazing because the pieces fit well and are timeless. My pick this season? The pleated, asymmetric skirt! Wear it with heels, mules, or sneakers – it works with any footwear. Possibly even Crocs. Yeah, the skirt is that beautiful!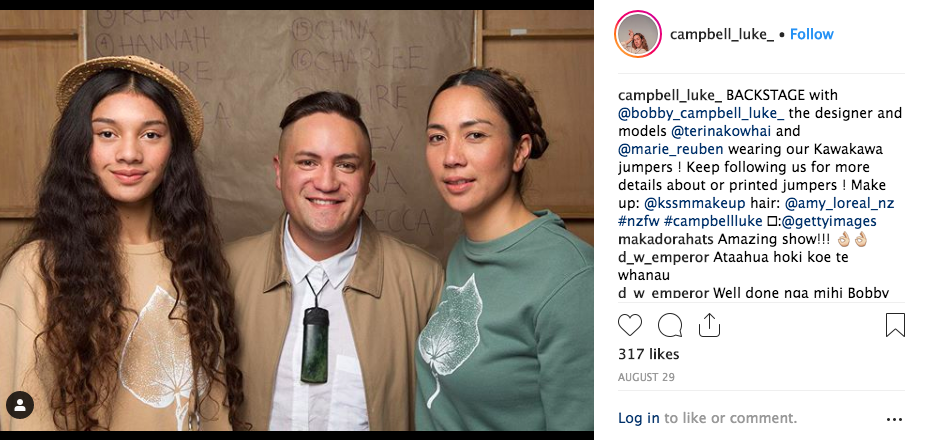 Campbell Luke
Now this… this is my aesthetic! It's dreamy, it's beige, it's vanilla in tone but not in connotation. There is nothing vanilla or boring about Campbell Luke's collection. In fact, I'd say the most innovative thing about his work is that it made neutral tones the most exciting I've seen in a while. Designer Bobby Campbell Luke from Taranaki really made a lasting impression on me.
One look at his pieces and you can immediately tell that this is a label that has a lot of heart. Their clothes are well made, the pieces are classic but with a lot of drama to keep it interesting. It's clear that Campbell Luke is inspired by designer Bobby Campbell Luke's Māori heritage and his show was a beautiful nod to that.
Follow Campbell Luke on Instagram @campbell_luke_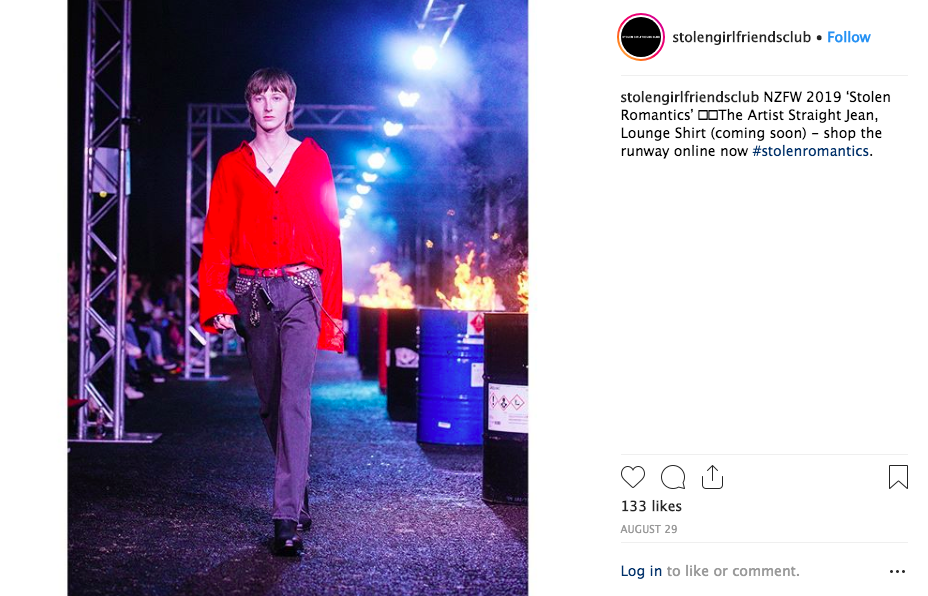 Stolen Girlfriends Club
Year after year, Stolen Girlfriend's Club really goes all out and puts on a show for fashion week. And man, are they incredible at it! Stolen Girlfriend's Club shows are so highly anticipated that when they open the tickets to the public, it sells out immediately. Their after-parties are even more legendary as evidenced by the fact that a crowd was already queuing to get in before the models even left the runway.
Now back to the clothes! I feel they've got their brand, aesthetic, and persona down to a T. But the thing about Stolen is that even though they've mastered this already, they still manage to surprise you. Just when you think you know what to expect – leather, flashes of skin, clothes that are so bangin' you want to wear them straight away – they throw in something to spice things up. A red snakeskin dress, a red velvet shirt, a long black dress styled with pants… it's a cohesive collection with a lot of styling options. I'm obsessed.
Follow Stolen Girlfriend's Club on Instagram @stolengirlfriendsclub 
Comments
comments