Happy Spring/Easter – is this year flying by or is it just me? I think those February lockdowns in Auckland were a bit disorientating but we're getting there – hope everyone has a lovely Easter long weekend!
This month we round up new music from BLACKPINK singer Rosé, what's on this Easter/April, an entrepreneurs book to read, Billie Eilish's documentary is a must watch and more fresh tunes to add to your playlist.
Music: ROSÉ
You may already know Rosé from the incredible K-Pop group BLACKPINK, she has now released her much anticipated solo project R and the first single, On The Ground is sure to be on repeat on your playlist very soon. Rosé gave fans a double-whammy also releasing Gone, a stripped-back ballad – she worked with regular BLACKPINK collaborator TEDDY to create On The Ground (tell me the lyrics aren't already stuck in your head!). Rosé with her fellow BLACKPINK girls haven't let the pandemic slow them down, alongside her solo project R, the group recently released their album which featured collaborations with Selena Gomez and Cardi B and broke records – I don't think it would be a surprise if R followed suit.


Travel: Easter fun
Isn't it crazy to think this time last year we spent Easter in an intense lockdown where no-one could take advantage of a long weekend or do all the Easter festivities?! Well there's no time like the present and there's lots on this Easter and April to keep you going. You could kick off the long weekend with some hot cross buns and treats from The Easter Bunny plus if you want to get out and about there is a carnival at ASB Showgrounds in Auckland and the female-led Peachy Keen Festival in Wellington. Post-Easter you can get amongst the immersive experiences on offer including the Van Gogh Alive Exhibition and the very-popular Happy Place (dubbed the 'world's most Instagrammable exhibit') lands in Auckland after successful runs overseas this month, both taking residency at Spark Arena. Six60 will also play a special show at Eden Park on the 24th alongside the likes of Sir Dave Dobbyn, Drax Project and Jess B.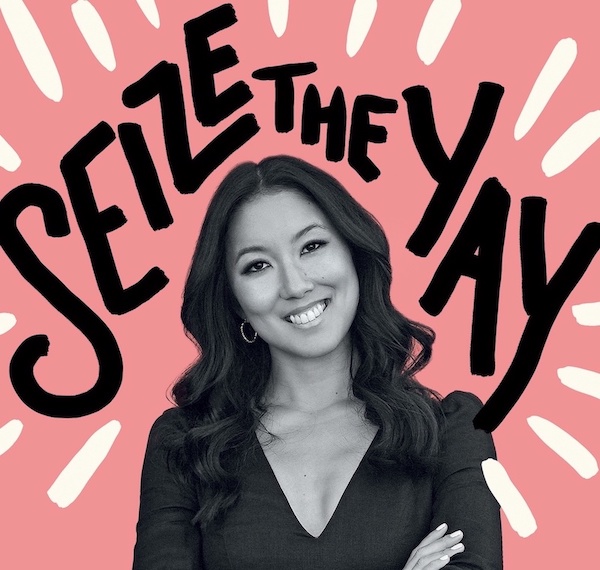 Book: Seize the Yay by Sarah Davidson 
Sarah Davidson wants you to 'seize the yay' by "fighting typical A-type tendencies towards success and perfection, and learning to enjoy the ride" – she's proof of this. Sarah is the founder of Matcha Maiden which was born in her home kitchen alongside her then-boyfriend and it wasn't before long that her hobby turned into something she couldn't have envisioned. Seize the Yay (also the name of her popular podcast) has Sarah's lived experience entrepreneur advice that is sure to put things in a different perspective – it is available online and in stores now. 

Film: Billie Eilish – The World's a Little Blurry
If you don't already know of Billie Eilish's incredible music chops I don't know where you've been but her new documentary The World's a Little Blurry is a must watch. I was able to pop along to my local cinema and see this on the big screen during it's premiere week and she's just incredible (with or without her iconic green and black hair!). I love a good documentary and this gives a true behind-the-scenes insight into her background and how her iconic tunes were created at home with her also-talented brother Finneas – The World's a Little Blurry is streaming on Apple TV+.


Playlist: I've been listening to…
Anything Before You by Foley
On The Ground by Rosé
Over It by Drax Project
This is Heaven by Nick Jonas
Peaches by Justin Bieber ft. Daniel Caesar & GIVEON
Younger by TEEKS
Guilty Love – Ladyhawke & Broods
Follow You by Imagine Dragons
Do You Believe by Ali Gatie, Marshmello & Ty Dolla $ign
feel something by bea miller
Beautiful Mistakes by Maroon 5 and Megan the Stallion
Save Your Tears by The Weeknd
Remember That Night? by Sara Kays
Heatwaves by Glass Animals
Cover Me in Sunshine by P!nk & Willow Sage Hart
Quote: @jessrachelsharp
Another month, another brilliant quote from Jess Sharp (a great Instagram account to follow if you don't already!). We may be in the fourth month of a new year but we're still in a very uncertain and challenging time so remember that your own well-being is paramount!


"Do not make yourself smaller, or try to change to fit other people's moulds or expectations of you. Stay true to your own soul and believe in your own sense of self, because you really are capable of absolutely anything you want. Most importantly, remember never to think that the measure of your self worth is in the hands of other people or their actions. You are a whole, brave, kind and strong human being and nothing can ever change that. You are enough, right now, as you are in this very moment. You matter and you are enough."


Comments
comments